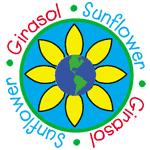 Sunflower/Girasol
Order Form Information

To Order Sunflower/Girasol Materials either:
1) Download the Sunflower/ Girasol Order Form available in Portable Document Format (PDF).*
and
Mail Your Order to:
Intercultural Center for Research in Education (INCRE)
366 Massachusetts Avenue Arlington, MA 02174-6733
*You may fax credit card orders to: (781) 643-1315

2) If you are unable to download the file electronically please contact INCRE at:

1(888) INCRE-SI
1(888) 462-7374
All materials are unconditionally guaranteed. You may obtain a full refund if not satisfied with the curriculum. Quantity discounts are available. Please call for details!
* If you do not have Adobe Acrobat Reader, you can click here to download it.